The Chalk Box has been blessed over the years to have some exceptional staff members. A lot of our staff, past and present, are former or current gymnasts or parents of a gymnast. There are three people that have been instumental in the success of the Chalk Box and deserve special recognition.
Beverly Windle
She started it all.
In 1980, Bev had a vision. She believed that she could start a business dedicated to teaching gymnastics and fitness, while maintaining good core values in Ashtabula. It was that dream, and her dedication that not only started The Chalk Box, but kept it going until her decision to retire in 2001. One of her high points was in 1996. The Olympic Games were held in Atlanta that year and the Olympic Torch Relay passed thru Ashtabula. Due to her long time dedication to helping the youth of Ashtabula, she was selected to carry the torch for a portion of route thru Ashtabula. Thank you Bev for everything you have done for us.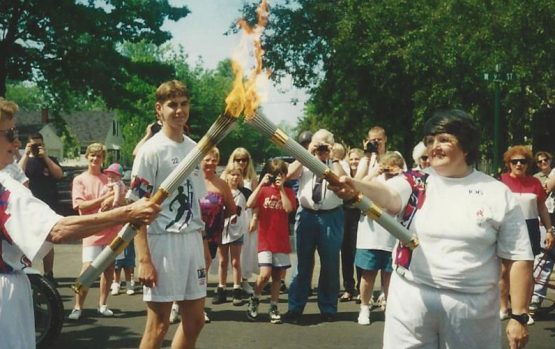 Cathy Speelman
Continued The Traditions.
In 1982, two of Cathy's Children stared attending classes at The Chalk Box. Michael (retired 1st Sgt. Speelman, USMC) was 4, and Jenny was 3. In 1983, her son Nicholas, age 2, started taking classes also. Cathy began teaching gymnastics classes then also. The kids worked there way up thru the levels, joining the competition teams, and even competing at the AAU Nationals. In the fall of 1983 Cathy began teaching fitness classes. In 2001, when Beverly decided to retire, Cathy and her husband David, being like family, were given the opportunity to buy the business. The Speelman's have continued to maintain the same values that started with The Chalk Box. Now days, even retired, it's not hard to find her still teaching fitness classes.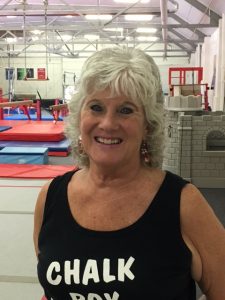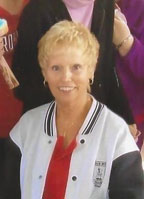 Brenda Cevera
Truly One Of A Kind.
Brenda started working at The Chalk Box with Bev in Febuary 1981, just 2 months after the business opened. Over the years, Brenda has done it all. From teaching gymnastic classes, fitness classes, and behind the desk. Over the years she was a very special part of The Chalk Box Family. We lost Brenda in January of 2014. She will always be a part of our family, thought of often, and is deeply missed.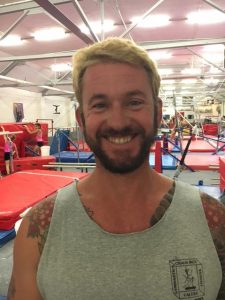 Michael Speelman
Michael was born and raised in Ashtabula and started doing gymnastics at the Chalk Box when he was 7 years old. He competed as a gymnast until he was 17 years old, and also worked as an instructor and coach from the time he was 14. The summer after his graduation he joined the United States Marine Corps, where he served honorably for 21 years. His time in the service took him around the world, to include combat tours in Iraq and Afghanistan. He retired from the Marine Corps in November of 2016 as a First Sergeant.
Michael and Chrissy took over the Chalk Box from Michaels mom, Cathy, in March of 2017.
Michael is also currently serving as the Ward Four City Councilor for the City of Ashtabula, also works as a substitute workshop specialist and bus aide at Ashcraft Industries.
Michael and Chrissy have been married since December of 1995 and they have an amazing daughter, Jenna, who also works at the Chalk Box.
Chrissy Speelman
Chrissy is Chrissy.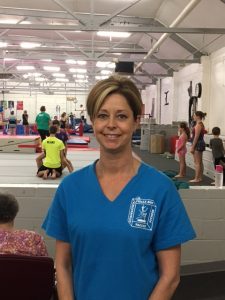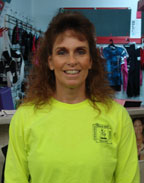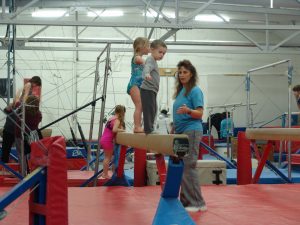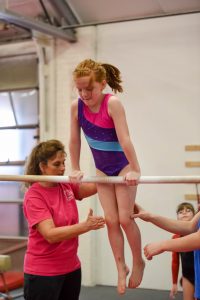 Julie Clark
Julie is one of the original gymnasts at The Chalk Box. At 6 years old, Julie began gymnastics with Beverly, before Bev started The Chalk Box, and was competing by the age of 7. She was 13 years old when Beverly opened the doors to The Chalk Box. Her parents were part of the original group that helped Beverly get The Chalk Box started. She competed for several years including at AAU Nationals. When she was 16, she started teaching classes at The Chalk Box. Her oldest daughter, Tiffany, started taking classes at 2 years old, competing when she was 6, and competing until she was 18. At age 17, Tiffany won Vault at the AAU Summer Nationals in Florida. Julie's younger daughter Ashley, started classes at the age of 2, and took classes until she was 9, when she then pursued other activities. In 2013, Julie's granddaughter Gianna, at 16 months old, started taking the Parent/Tot class becoming the first 3rd generation to take classes at The Chalk Box. Julie's grandson Leo, may someday take classes, but currently lives out of state. Julie continues to teach classes, coach teams, and work the desk. She has taught several kids whose parents she also taught.
Nikki Lengyel
Nikki started classes here when she was 3 years old and started competing when she was 7 (she has won gold at nationals). Nikki started teaching here when she was 14 while still on our competition teams. Currently she teaches classes, coaches teams, and works in the office. Nikki is married to David. Her sister Katie is also on staff here.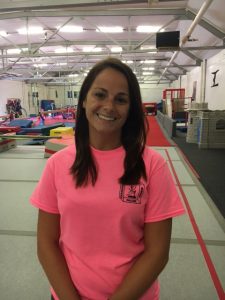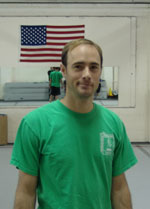 David Lengyel
David Started in the 80's at The Chalk Box in the run and tumble class. Started Competing in 1990. He has qualified for JO Games twice. Started teaching here 2011 as the boys coach. He is currently teaching boys classes, Coaches boys team, and teaches a lot of the girls classes too. He is married to Nikki.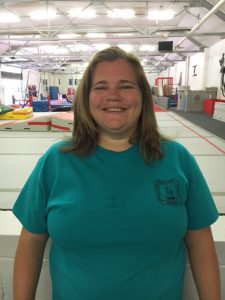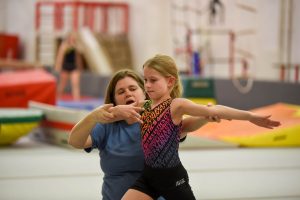 Rebecca Forbes
Rebecca started classes here in 1982 at age 3. By age 7 she was on the competition teams. She reached level 8 and also competed at nationals. When she was 16, she started teaching here. Currently, her 3 daughters are taking classes here, Emily, Ella and Erin all started when they were 2 years old.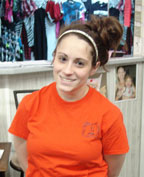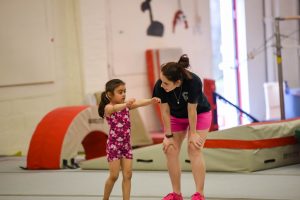 Katie Carpenter
Katie started classes here at the age of 2. She started competing here by the time she was 7. During her time competing here, she did qualify for J.O. games. When she was 14 she joined the staff here and has been teaching classes since. Katie's daughter Eva is currently taking classes. Her sister Nikki is also on our staff.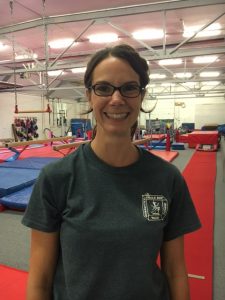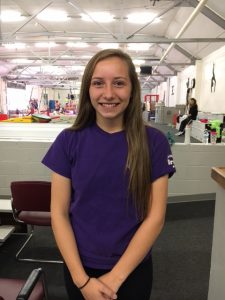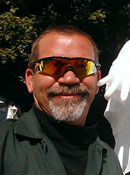 Julie's Husband
Yes, he does have a name, but at The Chalk Box he is simply known as "Julie's Husband". From time to time you will see him pop in, usually when there is something needing fixed, or looked at. Or there is a project coming up and he is getting a plan together. He usually gets a phone call that starts with "when you have a chance, could you stop by and look at……." So the next time you are at the gym, and he walks in and goes out on the floor, and you are wondering who that guy is, just remember, it's ok, that is "Julie's Husband".